We are proud to share that our company and manufacture facilities are recognized by different organizations.
Our shared commitment to provide products manufacture according to the highest standards and inspection criterias ensures that you will always receive quality products with FONCS and its brands.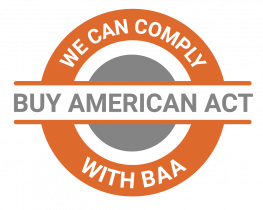 We can comply with the ARRA Buy American Act, ensuring our products are of the highest quality while adhering to USA's regulations.
Each Waveoptics cable meets the highest quality standards in the industry and can contain a compliance certificate with which the performed tests in our quality laboratory are physically attached.
Our Fiber Optic Connectors and Attenuators comply most required standards to ensure a high quality and low performance loss, in an effort to provide you the most efficient Fiber Optic Components available.
Underwriters Laboratories Standard 94 Certification on Fiber Optic Connectors and Attenuators for Flammability of Plastic Materials for Parts in Devices and Appliances.
GR-326, 3120, 1081, 910, 1209, 1221, on Fiber Optic Connectors and Attenuators as well as Jumpers and Pigtails.
Compliance on the FOCIS-3 Type SC and SC-APC Connector Intermateability.
We comply with the Restriction of Hazardous Substances to reduce the use of dangerous substances in the development of electronic and electrical equipment.
All the Fusionguard Fiber Optic Splice Closures and Multiport terminals are water and dust-proof, to gurantee a total environmental protection.

IP68 grading Fiber Optic Closures offer full protection against dust and a complete and total immersion in water.
Fiber Optic Hardware
& Identification
Aerialgrip and its products adhere to IEEE standards for all overhead aerial Fiber Optic Cable Installations, its functional, electrical, mechanical and other requirements.

Compliance to the IEEE 1591.2-2017 standard for all overhead aerial fiber optic cable installations.
Need help?
Speak to a sales representative today and get all your questions answered immediately.